COVID-19: Vietnam sees 82 new domestic cases, 138 recoveries on June 23 afternoon
Vietnam reported 82 new COVID-19 domestic and three imported cases in the six hours to 6pm on June 23, according to the Ministry of Health.
Among the locally transmitted infections, 61 were recorded in Ho Chi Minh City, six in Da Nang, four in Bac Ninh, three in Long An, five in Nghe An, two in Kien Giang and one on Bac Giang. Of them 81 were detected in quarantine sites and sealed off areas.
As of 6pm on June 23, Vietnam had a total of 12,227 domestic cases and 1,720 imported ones As many as 10,657 local infections had been confirmed since the fourth wave of outbreaks hit the country on April 27, including 2,910 recoveries.
As many as 5,684 patients have been given the all-clear so far while the death toll stood at 70.
Of those who are still under treatment at medical facilities, 341 have tested negative for the coronavirus once, 143 twice and 130 thrice.
Eighteen localities have not seen new infections in the community for two weeks.
In the context of complicated developments, the MoH called on citizens to follow the 5K message, including khau trang (facemask), khu khuan (disinfection), khoang cach (distance), khong tu tap (no gathering), and khai bao y te (health declaration), to help contain the outbreaks./.
Top Hanoi leaders re-elected at municipal People's Council meeting
The Hanoi People's Council for 2021-2026 re-elected Chu Ngoc Anh as chairman of the municipal administration at its first session which opened in the capital on June 23.
The meeting also re-elected Nguyen Ngoc Tuan as chairman of the Municipal People's Council for the 2021-2026 tenure.
The new Hanoi People's Council is comprised of 95 members who were elected during Election Day on May 23.
The first session opened on June 23 to complete key personnel of Hanoi's apparatus, examine the city's major achievements in the first half and outline development orientations in the second half of the year.
Man dies at quarantine facility in Dong Thap
A 32-year-old man who was suffering from tuberculosis and exhaustion has died at a concentrated quarantine facility in the Mekong Delta province of Dong Thap after testing negative for Covid-19 once.
Doan Tan Buu, vice chairman of the provincial government, confirmed on June 22 that the man was dead this morning.
The deceased was identified as a resident of Phu Dien Commune in the province's Thap Muoi District. He was sent to the quarantine center on June 8 after returning to the province from some other provinces.
On June 9, he felt tired and could not eat anything, while his health deteriorated. As such, he was transferred to the Hong Ngu General Hospital for quarantine and treatment. His Covid-19 test result came back negative on the same day, the local media reported.
He received treatment for tuberculosis and exhaustion for four days at the hospital. On June 14, as his health condition was stable, he was taken back to the quarantine facility.
However, he continued to feel exhausted and at 6.00 a.m. today, he passed away due to respiratory failure and heart failure caused by tuberculosis, Buu said.
COVID-19: HCM City makes up half number of new cases over six hours
Vietnam has confirmed 80 more locally acquired coronavirus cases in seven localities nationwide during the past six hours, with Ho Chi Minh City representing half the figure.
Relevant agencies are conducting epidemiological investigations into 10 other cases, the MoH said in its 12.00am COVID-19 update on June 23.
Notably, at least 10 cases were documented at medical facilities through patient screening. Saigon General Hospital alone suspended receiving admissions after recording five cases through patient screening on June 22.
Elsewhere, 23 new cases were documented in Binh Duong, eight in Bac Giang, four in Hung Yen, two each in Lao Cai and Long An, and one in Bac Kan.
Binh Duong has emerged as a coronavirus hotspot in Vietnam, recording more than 100 local infections as four chains of transmission were uncovered at crowded companies and business workshops.
The MoH on June 23 dispatched a working group to Binh Duong to help it slow the spread of the virus. The National Steering Committee on COVID-19 Prevention and Control also held an online meeting with local authorities on the same day to curb the fresh outbreak.
Vietnam has confirmed 10,575 cases, including 34 deaths, in 42 cities and provinces across the country since the resurgence of the virus in late April 2021.
The healthcare sector is speeding up vaccination, considering it an effective way to halt the spread of the virus.
More than 2.5 million doses of the CVOID-19 vaccine have been administered nationwide since the vaccination campaign was launched in March.
National population data centre makes debut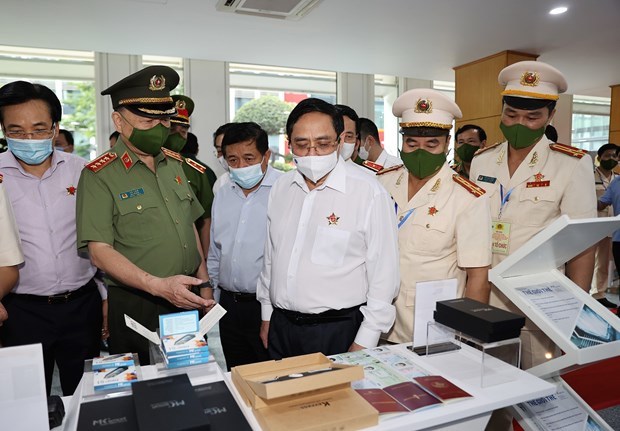 Prime Minister Pham Minh Chinh (front, centre) and officials visit the display of equipment serving the national population database project on June 22
A conference was held in Hanoi on June 22 to review the projects on the national population database and on the making, granting, and management of citizen ID cards.
Lt. Gen. Nguyen Duy Ngoc, Deputy Minister of Public Security, noted that the ministry was assigned to coordinate the implementation of these two projects, which have achieved four major results: basically completing the national population data centre, completing the granting of personal identification numbers for citizens nationwide, completing the design and production of chip-based ID cards, and successfully connecting the national population database with ministries, sectors, and localities on a trial basis.
Addressing the meeting, Prime Minister Pham Minh Chinh considered the official operation of the national population database and the citizen ID database a stride in the national governance reform to meet the regional and international integration demand.
It is an important event helping affirm the efforts to promote digital transformation in the country, he said.
The two projects' outcomes will create optimal conditions for the provision of online public services and the reform of citizen management activities, thus helping with the crime fight and ensuring social order and safety, the Government leader added./.
First 1,000 jabs in third-phase trials of Nano Covax administered
The administration of the first 1,000 shots in the third-phase trials of Nano Covax, a home-grown COVID-19 vaccine candidate, has completed, the Hanoi-based Vietnam Military Medical University said.
The jabs were given to about 880 volunteers in the northern region under the university's coordination and more than 120 others in the south under the coordination of the Pasteur Institute in Ho Chi Minh City.
The shots were administered on a 6:1 ratio, which meant six got the vaccine and one received placebo, according to Lt. Col. Chu Van Men, Director of the university's Centre for Clinical Trials and Bioequivalence.
The volunteers will have blood samples taken to test the generation of immunity by July 30, and data about the vaccine safety and immunity generation are set to be available by mid-September.
After the first 1,000 volunteers, the trials of Nano Covax will continue on another 12,000 on a 2:1 ratio, with two getting the vaccine and one the placebo.
The third-phase trials, using only the 25mcg doses, cover 13,000 volunteers aged between 18 and 75 nationwide.
Results of the first two stages show good immunity generation in all volunteers, Men noted.
Nano Covax has been developed by the Nanogen Pharmaceutical Biotechnology JSC since May 2020. The first-phase trials began on December 18, 2020 while the second phase on February 26 this year, and the third on June 11.
Vietnam also has several other vaccine candidates under development./.
Prime Minister, German Chancellor hold talks
Prime Minister Pham Minh Chinh held a phone talk with Chancellor of Germany Angela Merkel on June 22.
For her part, Merkel said Germany always considers Vietnam as an important partner in the country's policy towards the region.
Highly valuing the bilateral ties, the German chancellor said that the two countries are seeing great opportunities and prospects that should be strongly promoted.
The two leaders agreed to soon resume delegation exchanges, high-level contacts and strengthen cooperation mechanisms, focusing on improving the effectiveness of the joint committee on economic cooperation between Vietnam and Germany.
They affirmed to continue working closely and support each other at international forums and organisations, especially the ASEAN-EU relations./.
Vaccines can only be approved based on sufficient scientific data: official
The emergency use authorisation for a COVID-19 vaccine is necessary but it must be based on sufficient scientific data, a health official said on June 22.
Nguyen Ngo Quang, Deputy Director of the Health Ministry's Department for Science, Technology and Training, made the remark in response to the Nanogen Pharmaceutical Biotechnology JSC's proposal for validating its Nano Covax, a COVID-19 vaccine candidate, for emergency use.
Quang noted that before approving a vaccine for mass use, it is a principle that the Ministry of Health (MoH) must ensure the safety, the generation of immunity, and the protective effect of that vaccine.
The emergency use authorisation for a vaccine depends on many factors, and the MoH needs scientific data to make a decision, Quang emphasised.
He stressed the MoH's absolute support for the development of domestic vaccines, adding that the health sector's ultimate goal is to protect people's health, so benefits and risks must be thoroughly considered.
Nano Covax is currently in the third phase of trials, with 1,000 volunteers already getting the shots.
Results recorded so far showed that this vaccine candidate is safe and has generated the immune response in volunteers, but its protective effect is still under research.
To have sufficient scientific basis to assess the immunity generation and protective effect, volunteers need to be monitored for 36 days, 45 days, and 56 days since the first jabs, according to the official./.
Vietnamese photographers win prizes at Spanish photo contest
"Do than nhiet" (body temperature check) by Viet Van (Photo: laodong.vn)
Photographer Viet Van from Lao Dong (Labour) newspaper also brought home an honourary certificate from the competition for his single image titled "Do than nhiet" (body temperature check) in the same category.
The photo features a student at To Hoang Primary School in Hanoi, who is having her body temperature checked before entering the school after days of staying at home due to COVID-19 pandemic.
Three other photos of Viet Van also entered the finalist and are published in the competition's catalogue.
The contest includes three categories of single photos, series photos and photos on COVID-19.
The highest prize came to famous Belgium photojournalist Alain Schroeder./.
Vietnam, Russia forge stronger military-technical ties
Deputy Minister of National Defence Sen. Lieut. Le Huy Vinh hosted a reception for Anatoly Chuprynov, resident representative of the Russian Federal Service for Military-Technical Cooperation, in Hanoi on June 23.
At their meeting, Chuprynov congratulated Vinh on his appointment as Co-chair of the Vietnam-Russia Intergovernmental Committee on Military-Technical Cooperation and chairman of the Vietnamese sub-committee.
Authorised by chairman of the Russian sub-committee under the Russia-Vietnam Intergovernmental Committee on Military-Technical Cooperation, Chuprynov shared his views on the status and results of military-technical cooperation between the two countries' defence ministries.
Russia wants to further enhance ties with Vietnam in this field in the coming time, he said, proposing the two sides convene the 22nd meeting of the Russia – Vietnam Intergovernmental Committee on Military-Technical Cooperation this year.
Deputy Minister Vinh, for his part, highly spoke of the outcomes of the bilateral military-technical cooperation over the previous years, particularly highlighting the role of the committee in this regard.
Taking note of Russian side's proposal, he suggested both sides to continue effectively implementing agreements and improving existing partnership mechanisms./.
Vietnamese food favoured by Japanese female tourists
Vietnam was the only country that was chosen by Japanese female tourists for its good food, according to a Cambodia/Laos/Myanmar/Vietnam travel sentiment survey.
The survey was conducted by the ASEAN-Japan Centre (AJC) and Valise Inc. in January and February 2021 with the participation of Japanese females who had travelled overseas at least once in 2019. About 90 percent of the surveyed females aged 20-29 and 30-39.
At a press release to announce the survey's outcomes in Tokyo on June 22, Yui Hiramatsu, Manager of the Marketing Solution Department from Valise Inc., said 24 percent of the respondents said they choose Vietnam for its delicious food; 17 percent for its cities/towns/streets they want to visit; 15 percent for its tourist spots, and 12 percent for inexpensive cost.
Food is what differentiates Vietnam from other countries, she said, adding that none of the respondents answered, "I don't really have an impression" on the nation.
Only 1 percent of the surveyed people said they have never considered going to Vietnam or Cambodia, while the percentages for Laos and Myanmar were 16 percent and 18 percent, respectively.
The survey also showed a number of shortcomings of Vietnamese tourism to such group, including high travel costs and a lack of information on local transportation.
According to the Japan National Tourism Organisation, the number of Japanese people traveling abroad surpassed 20 million for the first time in 2019, with women aged 20-29 topping the list in terms of both age and gender./.
Ministry presents 3,000 white canes to support blind people
The Ministry of Planning and Investment presented 3,000 white canes to the Vietnam center for rehabilitation training for the blind at a ceremony on June 22, as part of the ministry's initiative on supporting blind and visually impaired people.
The canes are set to be delivered to the target beneficiaries this month.
Speaking at the ceremony, Deputy Minister of Planning and Investment Nguyen Thi Bich Ngoc said she hopes the initiative will continue receiving support from the community in its journey to raise public awareness about three million blind and visually impaired people across the nation and to assist the group, leaving no one behind.
Initiated in December 2019, the project aims to offer 1 million white canes to blind and visually impaired people, facilitating their travel and daily activities.
Training on the usage of the cane and awareness-raising communications activities are also part of the project./.
Vietnam confirms 55 new domestic COVID-19 cases
The Ministry of Health (MoH) reported 55 more locally-infected COVID-19 cases in the past 12 hours to 6am on June 23, pushing the national tally to 13,782.
Of the new cases, 51 were found in Ho Chi Minh City, two each in Bac Giang and Nghe An provinces.
To date, Vietnam has logged 12,065 domestically-transmitted infections and 1,717 imported cases. As many as 10,495 local infections had been confirmed since the fourth wave of outbreaks hit the country on April 27.
Since April 29, over 5.9 million people have received COVID-19 tests.
Eighteen provinces which were previously hit by the pandemic have gone through 14 consecutive days without new infections.
The MoH said the number of recoveries reached 5,546, while the death toll related to the disease now stands at 69.
Among the active patients, 377 have tested negative to coronavirus SARS-CoV-2 once, 132 twice and 141 thrice.
On June 22, an additional 107,772 people received COVID-19 vaccine shots nationwide. So far, over 2.5 million vaccine doses have been injected. The number of people fully getting two shots is 133,843./.
HCMC Labor Dept proposes supporting 230,000 workers affected by Covid-19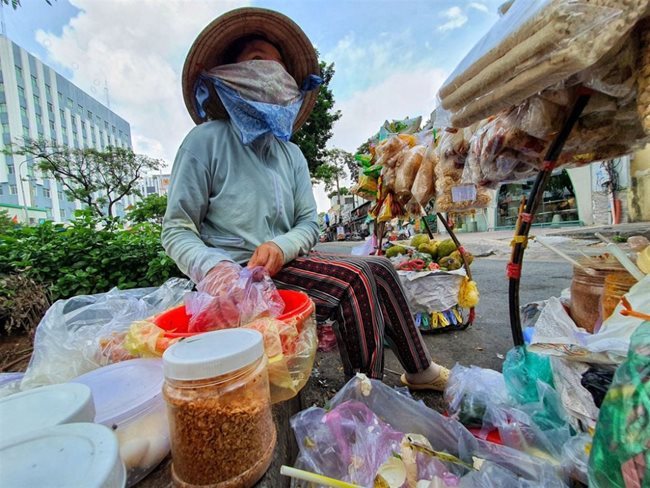 A street vendor in HCMC. The HCMC Department of Labor, Invalids and Social Affairs has proposed the municipal government offer financial support to 230,000 freelance workers affected by the Covid-19 pandemic, including street vendors
These freelance and uncontracted workers who have lost their jobs that are unstable and are low-income jobs are facing multiple financial difficulties due to the impact of the pandemic, according to the municipal department.
Residents and non-residents who are unemployed or have a lower income than the city's near-poor level during the social distancing period might be entitled to the financial support, the local media reported.
Besides, the support should be given to laborers belonging to six groups–street vendors, garbage or scrap collectors, workers active in loading and unloading activities, lottery ticket sellers, waiters and guards in restaurants or employees at lodging facilities, and workers at entertainment sites, museums, parks and wedding and convention centers that have been suspended in line with the city's directive on May 30.
The municipal department proposed offering VND1 million to each affected worker and spending parts of the city's budget, the Covid-19 prevention fund and other sources on the support.
As of this afternoon, June 21, HCMC reported 1,714 locally-infected Covid-19 cases in the latest wave of the coronavirus, which began on April 27. The city is seeing over 36,560 people put under quarantine at concentrated quarantine facilities and home.
HCMC to build 12-ha new parks to create more urban green space to city landssape
The Ho Chi Minh City Department of Construction yesterday said that in order to gradually improve the quality of life and the environment to create more urban green space for the city landscape, the southern metropolis will invest in building additional 10-hectare new public buildings and public parks.
Moreover, the city will add more public green space by planting more than 6,000 trees citywide.
By 2025, the Department of Construction will pour more money into building parks and will ask residents in apartment buildings to manage parks and trees in the building. Additionally, it will renovate parks and plant more trees in deteriorated buildings.
Thu Duc City People's Committee and administrations in districts work with investors upon investment plan for all parks, trees, and even technical infrastructure in the above projects. At the same time, the city will recheck the land fund for the proposal of public park construction from now to 2025 in all districts across the city.
Non-public schools have preferential policies for students
Though the Ho Chi Minh City authorities have not specified the exact date on which the tenth-grade entrance exam in the school year 2021-2022 will be conducted because of the impact of the Covid-19 epidemic, many non-public high schools, continuing education centers, vocational schools have more preferential policies for students.
For instance, Thang Long High School in District 5 was allowed to increase its enrollment by 120 compared to the previous school year. In addition, the school managers decided to decrease tuition fees and other payments in this school year with the aim to share difficulties with learners.
Specifically, the boarding fee is reduced from VND2,600,000 a month in the previous school year to VND2,500,000 monthly in this school year. Furthermore, the part-boarding fee is reduced from VND900,000 a month to VND800,000 a month while the tuition fee for morning and afternoon classes will be slashed from VND1,750,000 a month to VND1,550,000 a month.
Quoc Tri High School in District 6 followed suit to cut tuition fees. The school managers decided to adjust the boarding fee from VND5,670,000 monthly to VND3,870,000 a month and the boarding fee from VND3,250,000 per month to VND1,450,000 per month in this school year. The school was allowed to admit more than 90 students in its enrollment quota.
Non-public schools including Duy Tan Middle School and High School in District 10, Ngoc Vien Dong Middle School and High School in District 12, Viet My High School in Tan Binh District, and Dinh Tien Hoang Middle School and High School in Tan Phu District also offered a preferential tuition fee policy for the next school year to attract learners.
In addition, Nguyen Thuyen, Vice Principal of Ly Thai To High School in Go Vap District said that with the desire to reduce learners' burden of tuition fee amid the development of the Covid-19 epidemic, the school has decided to cut 30 percent of the first month's tuition for all students.
Last but not least, excellent students will enjoy total exemption of tuition fee while students from low-income families, social policy beneficiaries and students with good academic performance will enjoy 20 percent of exemption of tuition fee.
According to the Ho Chi Minh City Department of Education and Training, in the 2020-2021 school year, the whole city has 99,569 graduates from secondary schools. Of the amount, 83,324 candidates registered to take the tenth-grade entrance exam.
However, the total enrollment target for the tenth grade of 114 public high schools in the school year 2021-2022 is 67,989 students. Thus, there will be more than 17,000 students who will fail to cut into schools of their choice.
Some 122 non-public high schools, the Center for Vocational Education and Training, vocational training center, vocational secondary schools will admit more than 16,000 students who failed to enter public schools.
According to the report of the city Human Resources Forecast and Labor Market Information (Falmi) Center, the southern metropolis will need 150,000 employees in the period 2020-2030 including 21 percent of workers with primary vocational qualifications, 28 percent of workers with intermediate qualifications, and 16 percent and 18 percent of workers with college degrees and higher degrees respectively.
HCMC upgrades Covid-19 digital map for more effective control of latest outbreak
The second version of Covid-19 digital map is optimized to have a better visual interface, with the addition of a 3D layer for HCMC, making it more user-friendly.
This new version also has more useful features for Covid-19 prevention and control tasks like quick access to comprehensive updates of the whole city, each district, and each ward; searching tool for Covid-19-related information; information sharing tool via a QR Code, social networks, or emails; optimized route development to avoid lockdown areas and minimize close contact at highly risky places; document download of Covid-19 hot spots.
All information shown on the digital map is updated twice a day, at the end of the morning and the afternoon. It reflects what is happening in all districts and Thu Duc City of HCMC.
Via this Covid-19 digital map 2.0, citizens can add feedbacks and report necessary information about violations of regulations and policies related to Covid-19 prevention and control so that state agencies can timely handle those cases.
To send updated information regarding Covid-19 in the neighborhood, people can dial the hotline 1022, ext. 3 or (028) 3824.9000; send an SMS to 1022; install the app 'Tong dai 1022' on both Android and iOS smart devices and then allow the access to image capturing in order to report necessary information at a specific location on the map.
They can also access the website https://1022.tphcm.gov.vn for the same task or send updated information to the email address of [email protected] Another way is to deliver their report to the formal social network page at https://www.facebook.com/1022.tphcm.gov.vn.
The HCMC Department of Information and Communications continues to upgrade and add more useful functions to this digital map in hope of making it the ideal supporting tool for Covid-19 prevention and control tasks as well as information delivery of life of HCMC residents.
AFC to roll out VAR in final round of 2022 World Cup Qualifiers
The Video Assistant Referee (VAR) system will be rolled out by the Asian Football Confederation (AFC) for matches in the final round of the 2022 FIFA World Cup Asian Qualifiers this September, including Vietnam's games.
The VAR is used with the aim of helping referees to make the most accurate decisions during matches. The 2018 FIFA World Cup became the first competition to use this technology in full (at all matches and in all venues).
In Asia, the VAR was first adopted from the quarter-final stage of the AFC Asian Cup UAE 2019 before it was implemented across 32 matches at the AFC U23 Championship Thailand 2020.
Despite being considered a useful tool for referees in running matches, the VAR cannot replace referees' decisions and are only used in a number of specific situations, including determining a goal, a penalty, a direct red card, or a foul.
With the VAR depending greatly on technical infrastructure conditions, after the draw of the third qualifying round, the AFC will survey and evaluate stadiums proposed by member federations based on the VAR's minimum requirements, ensuring the readiness to roll out the technology for matches.
Regarding member federations that do not use the VAR in their domestic leagues, the AFC will evaluate the feasibility of implementing the technology with consultation from the designated suppliers and relevant parties before issuing a final decision.
The application of the VAR technology requires certain conditions in terms of both personnel and technical infrastructure.
In the event that the VAR cannot be rolled out in any member federation for any reason, the AFC will not consider the use of the technology in the matches hosted by that member federation. However, the failure to apply the VAR in a particular game will not affect the application of the technology in other matches. The AFC will announce decisions regarding the use of VAR at an appropriate time, after considering all options from the relevant federations' stadium confirmation and proposals.
As scheduled, the final round of the 2022 World Cup Asian Qualifiers will commence on September 2, 2021, with the participation of 12 teams including Vietnam, Japan, Iran, Australia, the Republic of Korea, Saudi Arabia, the UAE, Iraq, China, Oman, Syria and Lebanon. The competitors will be drawn into two groups of six teams to play home-and-away round-robin matches. The top two teams of each group will directly qualify for the 2022 FIFA World Cup, and the two third-placed teams will advance to the inter-continental playoff.
This is the first time Vietnam have reached the final round of the World Cup qualifiers. Park Hang-seo's side saw them through as one of the five best runners-up in the second round of the qualifying campaign.
Vietnamese people prioritise staying with family despite wanting to travel
Despite the desire to travel surpassing other priorities in 2021, the majority of Vietnamese respondents still prioritise spending time with family even when they have to choose between staying with family or going on a long trip.
This information was announced by Booking.com on June 17 in a global study of more than 28,000 travelers in 28 countries and regions. The study aims to reveal key analytics around what travelers across the world want most, as well as what they are willing to give up for travel in 2021 as the COVID-19 pandemic progresses.
According to the results of the survey conducted by Booking on over 1,000 Vietnamese tourists who plan to travel in the next 12 months, up to 67% of them expressed their preference to spend time with family, with only 43% choosing vacations. Meanwhile, 66% of tourists in Taiwan (China) and 62% in the Republic of Korea prioritised vacations.
Regarding what tourists would like to experience this year, 69% of Vietnamese people in the survey would rather take vacations than think about their loved ones. In addition, 3% of Vietnamese tourists would choose a trip instead of buying a new car.
The desire to travel did not stop there, 57% of Vietnamese respondents chose a vacation over a promotion at work.
When traveling again, small experiences of the senses are what tourists look forward to the most. The first experience which accounted for a third of the votes (37%) of Vietnamese tourists is "the signature scent of the holiday" which awakens the senses, indicating they are on a new horizon.
Visional factors, from fashion and entertainment experiences, also help remind visitors of their trips. Accordingly, 15% of Vietnamese tourists aspire to have the opportunity to dress up during their vacations. Meanwhile, 36% dream of romantic vacations that are not merely destinations but also places for them to meet their other half.
The pandemic has even made visitors more excited to experience things that once annoyed them during their travels. At the top of the list for Vietnamese tourists is trying new foods for the first time including those that they did not like (24%), followed by sun tanning (20%) and the feeling of sand under their bare feet (20%). Meanwhile, 20% of Vietnamese travelers want to experience the feeling of "killing time" at the airports.
In addition, 17% of Vietnamese respondents look forward to food on planes as well as waking up at midnight to catch an early flight (19%). The challenge and joy of trying to overcome the language barrier when communicating with locals is an unexpected travel experience, savoured by 24% of Vietnamese tourists.
Another exhilarating experience and the wish of 18% of Vietnamese tourists is the feeling of sand remaining in their bags or clothes, even after leaving the beach.
Many people want to explore destinations and cultures as well as experience trips again. Certainly, when the pandemic passes and borders are reopened, many tourists will again pack their bags and travel, saying "wish you were here" instead of "wish I was there" like now.
Project spreads traditional cultural values of Vietnam's villages
The beauty and treasured cultural values of Vietnamese traditional craft villages have inspired 1985-born Ngo Quy Duc to establish the 'Ve Lang' (Travel to villages) project. 'Ve Lang' introduces visitors to the idyllic and tranquil space of the destinations while providing them with a deeper understanding about the place's history and culture which have been preserved through many generations.
Launched in mid-2020, the project had been in planning for 15 years since Duc established My Hanoi Group in 2006, which aims to advertise the history and culture of the capital city to visitors at home and abroad.
Duc then worked as Head of the Vietnamese Craft Villages' Folklore Culture Club under the Vietnam Craft Village Association and now Deputy Director of the Centre for Rural Research and Development under the Scientific Union for Sustainable Tourism Development.
The working experience has brought Duc on many trips to rural areas through which he has had the opportunity to meet craftsmen and learn more about the history and culture of traditional craft villages. The trips motivated him to work out a project to uphold the value of traditional crafts so that they can avoid the risk of being disappearing.
While other tours to craft villages often target international visitors to Vietnam, the 'Ve Lang' project is designed for both domestic and foreign tourists. Several tours under the project have received positive feedback from visitors.
They include the tour connecting the silk weaving village of Nha Xa in Ha Nam Province and the Ao dai making village of Trach Xa in Hanoi, during which visitors can learn about the history and culture of the long-standing silk weaving craft; witness each stage in the production process such as weaving, dyeing and sewing; and talk with the local artisans. The tour has attracted much attention and appreciation tourists who are interested in design, garment and textile, and fashion.
Other prominent tours under 'Ve Lang' project include one that brings visitors to Dong Ho Village to learn more about the history of Vietnamese folk paintings and the tour allowing children to explore traditional toys.
Through the 'Ve Lang' project, Ngo Quy Duc wants to promote the value of traditional crafts so that they can avoid the risk of disappearing.
The tours are designed with two priorities on highlighting the villages' culture and promoting the role of artisans and craftsmen in introducing their traditional crafts to visitors.
To date, Duc's project has received support from many youngsters who have a common passion for traditional culture as well as villagers who want to preserve and uphold the essence of their ancestors' crafts.
According to Duc, the 'Ve Lang' project will be implemented in three phases. The first phase of the project focuses on introducing the community to cultural values of traditional craft by offering visitors with experience activities in craft villages. Therefore, tours are designed for specific groups such that they can enjoy the tours to the fullest. For example, children are suggested with to visit traditional toy-making villages, women are served with tours to silk villages and Ao dai making villages, while those working in the architecture or the construction industry can choose tours to the sculpture and bamboo processing villages.
In the second phase, the tour's organisers will review the pros and cons of the first phase's implementation to make appropriate adjustments to make them more attractive. In the third phase, after completing the adjustments, the project will work with travel agencies to develop tourism activities in the craft villages in order to add value for the villages and help local people promote their culture while seeking business opportunities for their products.
While implementing tours under the 'Ve Lang' project, Ngo Quy Duc always pays special attention to the community living in craft villages. According to him, to gain sustainable preservation and traditional craft villages, it is important to get local villagers involved in the preservation and promotion activities and for them enjoy benefits from such activities. This is the core mission of his project, which make it distinguished and win much appreciation from those who have passion for Vietnamese traditional culture.
Supermarkets increase volume of goods
Deputy Director of the Department of Industry and Trade of Ho Chi Minh City Nguyen Nguyen Phuong, on June 20, affirmed that the commodity market and purchasing power was normal on the first day that the city implemented Directive No.10 of the municipal People's Committee on tightening and strengthening measures to prevent and control the Covid-19 pandemic.
The supply of agricultural products, such as vegetables, food, cattle meat, poultry meat, and fruits, from other provinces to HCMC is still smooth and meets the demand, and prices are stable. HCMC continues to encourage retailers to increase online sales and customer support services amid the current situation.
It was recorded that at some points of sale in the supermarket systems of Co.opmart, Tops Market, MM Mega Market, and Bach Hoa Xanh, goods are prepared quite diversely.
A representative of Saigon Co.op said that the number of customers shopping at supermarkets was normal. Particularly, Co.opmart and Co.op Food supermarkets in District 6 recorded an increase of about 30 percent compared to normal days.
Co.opmart Phu Lam supermarket has arranged many chairs with a safe distance for customers to sit and wait and regulated each group of 15 customers to enter the supermarket at a time. The number of orders placed through hotlines or the websites of some supermarkets also rose by 30 percent compared to June 19. Currently, Saigon Co.op continues to promote the sale of in-season agricultural products to support localities, such as purple sweet potatoes, bananas, avocados, and lychees.
The retail chains of Saigon Trading Group (Satra) also increased the volume of goods ordered from suppliers, rearranged warehouses to increase usable area, strengthened the search for new suppliers to diversify categories, and coordinated with Binh Dien Wholesale Market to find the supply sources of fresh meat, fish, vegetables, and seafood. Thus, the current quantity of goods in the system fully meets the demand of consumers.
Along with modern distribution systems, at three wholesale markets of Binh Dien, Hoc Mon, and Thu Duc, the volume of agricultural products provided for the HCMC market slightly decreased compared to before but still ensured the demand. Specifically, at Binh Dien Wholesale Market, the volume of goods arrived at the market reached 2,175 tons per night. Of which, cattle meat was 175 tons per night, vegetables and fruits 1,100 tons, and seafood 900 tons.
At Thu Duc Wholesale Market, the volume of vegetables and fruits of all kinds fluctuates at 3,200-3,300 tons per night, supply and demand are guaranteed, and prices are stable. At Hoc Mon Wholesale Market, the supply of goods to the market has dropped compared to normal days after the market had eight confirmed Covid-19 cases, in which the first case was detected on June 13. However, the selling prices of pork and vegetables remain stable.
Currently, all wholesale markets are implementing synchronous solutions to prevent the pandemic. Customers entering the market must make medical declarations and measured body temperature. Particularly, the Binh Dien market has coordinated with the health sector to test the stevedores who worked with the previously recorded Covid-19 case.
Satra's supermarkets and Satrafoods have simultaneously deployed more online sales services on the G1-Mart application and received orders through phones, helping consumers buy essential items without having to go to supermarkets. They have also promoted cashless payments via e-wallets to reduce contact.
Vietnam condemns attacks against civilians in Afghanistan
Vietnam has condemned attacks targeting civilians and civilian objects in Afghanistan at a UN Security Council's virtual meeting on the Afghanistan situation on June 22.
The Vietnamese representative commended efforts made by the UN Mine Action Service (UNMAS) and its partners in supporting demining and offering mine risk education.
Quy stressed the need for addressing economic, humanitarian, and food security challenges as well as promoting women and youth's engagement in all aspects of society in Afghanistan.
The event, chaired by Eva-Maria Liimets, Minister for Foreign Affairs of Estonia and Council President for June, saw the attendance of foreign ministers of Afghanistan, Norway, Ireland, India, and the UK.
Rapporteurs expressed their serious concern over escalating violence and civilian casualties in Afghanistan in the recent past as well as the stalled peace negotiations between the Afghanistan Government and the Taliban.
Deborah Lyons, the Special Representative of the Secretary-General for Afghanistan and head of the UNAMA, stated that the UNAMA continues to work to tackle humanitarian challenges, assist the peace negotiation process, and promote development and reconstruction.
Participating council members shared the concern and called for parties involved to soon achieve practical results in negotiations.
According to the UNAMA, civilian casualties in Afghanistan increased by 29 percent in the first quarter of 2021, with 573 people killed, 1,210 injured. The nation is also facing a severe humanitarian crisis, with more than 18.4 million people, or more than a third of the population, needing humanitarian assistance./.
Public security ministry boosts ties with British law enforcement forces
Minister of Public Security General To Lam on June 22 said cooperation between his ministry and the UK's law enforcement agencies has been consolidated and enhanced on the basis of the development of the Vietnam-UK strategic partnership.
The minister made the affirmation while receiving UK First Secretary of State and Secretary of State for Foreign, Commonwealth and Development Affairs, Dominic Raab.
The collaboration has produced important outcomes, especially in the fight against crime, human trafficking and illegal sending of migrants, and immigration management, he said.
He suggested the two sides continue to effectively implement agreements and memoranda of understanding on legal assistance, receiving back citizens and cooperation in crime combat, focusing on information sharing in fighting terrorism, organised crime, high-tech crime, child sexual abuse and illegal entry.
The two sides should closely coordinate to carry out the memorandum of understanding on cooperation in fighting human trafficking, he continued.
For his part, Raab pledged to work to promote the partnership between British law enforcement agencies and the Vietnamese ministry, considering this an important factor to build trust and boost cooperation between the two countries, matching cooperation potential of the two countries as well as the aspirations of their peoples./
Ruling parties of Vietnam, Singapore seek stronger cooperation
Chairman of the Communist Party of Vietnam (CPV) Central Committee's Commission for External Relations Le Hoai Trung received Vivian Balakrishnan, Minister of Foreign Affairs and head of the external relations commission of the ruling People's Action Party (PAP) of Singapore, in Hanoi on June 22.
Congratulating the Vietnamese people's achievements under the CPV's leadership, particularly in controlling the COVID-19 pandemic and sustaining socio-economic growth, Balakrishnan said Vietnam, which was one of a few nations recording positive growth in 2020, is a trustworthy destination of Singaporean investors.
He stressed that good relations between leaders of the two countries are a solid political foundation that creates conditions for bilateral cooperation in all other fields. The collaboration between the two ruling parties is an important factor of the Vietnam-Singapore strategic partnership, the official noted.
Trung, who is also a member of the CPV Central Committee, said Balakrishnan's current visit to Vietnam is an important milestone and contributes positively to relations between the two ruling parties as well as the Vietnam – Singapore strategic partnership.
Host and guest discussed measures to promote cooperation between the two parties and the two states.
Exchanging their views on regional and international issues, the two officials agreed to continue to sustain mutual coordination and consultation at regional forums such as the Association of Southeast Asian Nations (ASEAN) and the Asia-Pacific Economic Cooperation (APEC) forum to maintain a regional environment of peace, stability, friendship, cooperation and development./.
NA Chairman underlines importance of legislative studies
Legislative studies should serve facilitation of development, and help remove problems and shortcomings of the current legal system, National Assembly Chairman Vuong Dinh Hue said on June 22.
During a working session with the Institute for Legislative Studies, Hue said since its inception 13 years ago, the institute has made efforts to complete tasks regarding legislative scientific research and publish the Legislative Studies Journal.
Hue urged the institute to play a more active role in researching and making recommendations on how to concretise the Party's guidelines in the resolution adopted at the 13th National Party Congress, particularly new issues raised in the document.
To raise its operational efficiency, the institute should quickly draw up a project to revamp its operation, Hue said, noting that information products must be digitalised to make it easier for users./.
UNFPA presents dignity kits to women, girls in pandemic-hit areas
The United Nations Population Fund (UNFPA) in Vietnam has presented 5,100 Dignity Kits to women and girls at risk of gender-based violence as a result of the COVID-19 pandemic in the northern provinces of Bac Giang and Bac Ninh, and Ho Chi Minh City.
UNFPA Representative for Vietnam Naomi Kitahara handed over the kits to Vice Chairman of the Vietnam Farmers Union (VFU) Central Committee Nguyen Xuan Dinh at a ceremony in Hanoi on June 22.
Dignity Kits are a signature product of UNFPA's comprehensive package of humanitarian assistance, and the June 22's delivery of the kits was made possible in partnership with the Korea International Cooperation Agency (KOICA), the Government of Australia and the Government of Japan. The aim is to safeguard sexual and reproductive health and rights of women and girls, mitigate the risk of gender-based violence, and protect the dignity of women and girls adversely affected by a crisis.
Addressing the event, Dinh highly valued the support and coordination that the UNFPA has given to the VFU in the fields of population, productive health, gender equality, and the prevention of gender-based violation against women and girls.
Last year, when Vietnam suffered from impacts of both the COVID-19 pandemic and severe natural disasters, the country received great support from the UNFPA in Vietnam, KOICA and the governments of Japan and Australia, he said, adding that the VFU received and handed over 15,707 Dignity Kits to women and girls in affected localities.
He pledged that the union will deliver the 5,100 kits to women and girls in COVID-19 hit localities of Bac Giang (2,397 kits), Bac Ninh (1,438 kits), and HCM City (1,259 kits) as soon as possible.
He expressed hope to continue receiving support from KOICA and the Government of Japan in enhancing capacity for the union's officials in supporting Vietnamese farmers to sell their products.
For her part, Naomi Kitahara said that since the 1990s, the UNFPA has provided the Dignity Kits to women and girls during humanitarian crisis across the world.
"We must ensure that all women and children in Vietnam, including those most vulnerable such as in COVID-19 context, live a life free of violence, and support for them should be prioritized as part of the COVID-19 response", she said, adding that it is about making sure that everyone is part of the country's sustainable development process, leaving no one behind./.
Ca Mau to invest 38.7 million USD to build coastal embankment
The Ca Mau Department of Rural & Development said the locality is speeding up the construction of 26km of embankment to prevent the erosion of its western and eastern coasts, with a total investment of about 890 billion VND (38.7 million USD) from the central budget and official development assistance (ODA).
Specifically, the province is building a 2.1km basic embankment system on the western coast to prevent the erosion in Sao Luoi sea mouth, a 3.16km embankment section from Kenh Tu to Kenh Moi, a 2.87km section linking Kenh Moi to Sao Luoi, and another measuring over 3.5km from Sao Luoi to Ba Tinh.
On the eastern coast, the locality is constructing a basic embankment system in Hoc Nang sea mouth with a length of 2.5km and some anti-erosion embankment sections from Kenh Nam O Ro to Kenh Nam and from Kenh Nam to Kenh Chum Gong.
According to the provincial Department of Agriculture and Rural Development, the western coast sees erosion on a length of about 48km, more than half is in dangerous erosion. Meanwhile, erosion hits 57km on the eastern coast, of which 40km is classified as dangerous.
Since 2016, Ca Mau province has used capital sources mobilised to build 23km of basic embankment in the western and eastern coasts, with a total investment of about 857 billion VND./
Vietnamese culture impresses international friends in Czech Republic
Members of the international diplomatic corps in the Czech Republic said they were amazed when taking part in a tour around the biggest shopping centre of the Vietnamese community, SAPA, in Prague on June 22.
Co-organised by Vietnamese Embassy and the Diplomatic Spouses Association (DSA) in Prague, the event aimed at introducing the Vietnamese culture, people, and hospitality to international friends. It gathered Ambassadors to the Czech Republic of Vietnam, Japan, and Iraq, and 30 members of the DSA.
Ahmed Zahra, Chairwoman of the DSA and the spouse of the Pakistan Ambassador, told the Vietnam News Agency's correspondents that the tour gave an insight into a dynamic and friendly community.
She said the DSA welcomes the active engagement of the Vietnamese Embassy and expatriates in its post-pandemic activities.
Japanese Ambassador Suzuki Hideo shared his impression of a strong and dynamic Vietnamese community and its diverse cultural characteristics.
Vietnam and Japan have a fruitful traditional ties and trade-investment partnership, the diplomat noted, hoping the bilateral cooperation will be further sustained and promoted.
Iraqi Ambassador Sundus Albayraqdar said among many amazing things during the trip, he thought Vietnamese food is special and attractive.
Founded in 1997, the DSA has members from diplomatic corps of about 50 countries in the Czech Republic./.
Hanoi wishes to step up technology transfer, experience sharing with Singapore
Hanoi wants to step up technology transfer and experience sharing with Singapore, Secretary of the municipal Party's Committee Dinh Tien Dung told Singaporean Foreign Minister Vivan Balakrishnan during their meeting in Hanoi on June 22.
FM Balakrishnan is on an official visit to Vietnam to attend the Asia-Europe Meeting (ASEM)'s High-level Policy Dialogue, an initiative by Vietnam on the occasion of the grouping's 25th anniversary.
The Singaporean diplomat expressed his admiration for Hanoi's long history and cultural richness, saying the capital city has a distinctive blend of old and new and this should be preserved in conjunction with its urban development effort. He added that Hanoi and Singapore can learn from each other's experience in multiple fields.
Dung, for his part, briefed his guest about the city's development over the past several years.
Hanoi has been seeing rapid urbanization and is striving to attract foreign direct investment (FDI) to boost local economic growth, the secretary said, noting that among foreign investors in Hanoi, Singapore ranks second with total registered capital amounting 9.38 billion USD.
He said as Hanoi wants to become a green, civilized and modern city, it will promote urban renewal with infrastructure development and expansion of greenery spaces.
To this end, it is important to beef up cooperation with foreign partners, including Singapore, in technology transfer and experience sharing.
Dung expected the Singaporean FM will act as a bridge between Singapore and Hanoi, and Vietnam at large, to further advance the bilateral ties./.
Source: VNA/VNS/VOV/VIR/SGT/Nhan Dan/Hanoitimes
VIETNAM NEWS HEADLINES JUNE 23 have 8157 words, post on vietnamnet.vn at June 23, 2021. This is cached page on Europe Breaking News. If you want remove this page, please contact us.