Wales' secondary school system "must reinvent itself in a day again", a headmaster has said.
He said it gave parents and carers insufficient time to make arrangements.
Parent Clare Ferguson-Walker said it was "the right decision", claiming schools were unable to manage social distancing.
Meanwhile ColegauCymru, which represents further education colleges in Wales, said learning would remain online for the first week of 2021, from 4-8 January, with students returning to the classroom on 11 January.
The majority of Wales' councils have also said their primary schools will be closing early before the Christmas break, with learning moved online and classes only open for vulnerable children and those of key workers.
'The news came late'
"Heads had been asking (about the possibility of an early closure) for a number of weeks."
But despite questioning the fact there was only one working day's notice, Mr Loynd agreed it was "the right decision".
He said it came down to a choice between the inevitable "families voting with their feet" and keeping children home, or changing teaching in a "calm and controlled way", as he believes it will be by Monday.
Mr Loynd pointed to the earlier lockdown as giving teachers experience of managing homeworking, adding: "I can only hope we are open in the new year as planned, but we will have to see as the position changes.
"My view is the best place for children is the classroom, but it has to be safe."
He said his school had been tracking more than 30 coronavirus cases a day, with almost 500 in total since the start of the pandemic and 33 positive involving children.
"In 16 years as a teacher, this is the hardest I've faced. But 99.5% of teaching has still been face-to-face," he said.
"Just 0.5% has been lost. So while it's been difficult, it's working."
What do the pupils think?
Students at St Teilo's Church in Wales High School in Cardiff have been giving their views – and they are less than impressed.
"I'm a bit like gutted, as I'd rather go to school, because I don't like working from home. But it is what it is – and I'm still learning," said one male pupil.
Another female pupil added: "They could have just told us (earlier) so we were more prepared.
"We could have done our work more in the time of school and got it all done rather than being told the day before and being stressed about doing the online lessons, and feeling like we don't have the resources we have in school and stuff, and having limited contact with our teachers."
This sixth-form A-level student at the school said he was becoming increasingly frustrated: "Our education has already been disturbed enough with the previous lockdowns. I feel as though it is taking away from our education.
"I really feel they are mixing up my education, which I'm not really a fan of. I don't really know what is going on. It's quite scary really."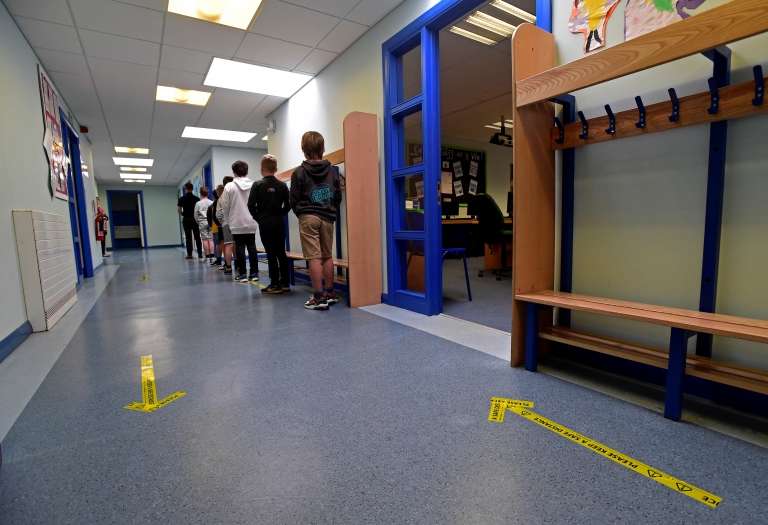 Reuters
How has Covid-19 hit schools in Wales?
In numbers, since September
3,032 cases among pupils

2,127 cases in staff

1,573 schools with at least one case

861 cases in the most recent six days

10 schools have had more than 20 cases
Source: Public Health Wales, 9 December
Clare Ferguson-Walker, from Tavernspite, Pembrokeshire, said she has one son in year eight and another child who is home educated, and that she was "really glad" the decision had been made.
"I'm surprised it didn't happen before this," she said.
"They haven't been able to properly police social distancing and my son has been coming home telling me who he's been wrestling with."
While she understands it will be hard for some parents, she added: "I'll get the tree up this weekend and make it as magical as possible."
Wales' Education Minister Kirsty Williams said on Thursday closures were part of a "national effort to reduce transmission of coronavirus".
"Every day, we are seeing more and more people admitted to hospital with coronavirus symptoms," she said.
"The virus is putting our health service under significant and sustained pressure and it is important we all make a contribution to reduce its transmission."
The announcement does not extend to primary or special schools, with the education minister "encouraging" them to remain open.
However, a number of local authorities have announced they will also be halting face-to-face learning in primaries early.
But Children's Commissioner Sally Holland said the move was "not the right decision" for children and young people in Wales and had yet to see any scientific advice to support the move.
"Whilst accepting the severity of the public health emergency and the responsibilities all of us have to keep each other safe, this decision compounds the disruption to our children's education over the last few months," she said.
Ms Holland said her "hope and expectation" was schools would reopen in January.
"It's hard to get it right, but you have to look at it from the perspective of children who have missed so much," she added.
After repeatedly resisting calls to move to online learning, the government's decision came at the eleventh hour.
Even many of those that welcomed it raise concerns about the fact teachers and families have only a day of school time left to address the changed situation they face next week.
It has been presented as offering "clear, national direction" but the announcement sparked a flurry of different local announcements cutting short face-to-face teaching in primary schools too.
The education minister said her decision was driven by the latest advice by the chief medical officer, while accepting that young people have paid a heavy price during this pandemic.
This is another week out of school, with the possibility of further disruption to the start of next term.
Where are primary schools closing early and moving to online learning?
From Monday, 14 December: Swansea
From Tuesday, 15 December: Anglesey, Ceredigion, Carmarthenshire, Merthyr Tydfil, Neath Port Talbot, Powys and Pembrokeshire
From Wednesday, 16 December : Cardiff, Denbighshire, Blaenau Gwent, Bridgend, Caerphilly, Rhondda Cynon Taf, Vale of Glamorgan
From Thursday, 17 December: Gwynedd, Monmouthshire and Newport
Schools in some council areas will remain open for children of key workers and for vulnerable children.
Covid: Teaching in Wales 'must reinvent itself in a day again' have 1329 words, post on www.bbc.co.uk at December 11, 2020. This is cached page on Europe Breaking News. If you want remove this page, please contact us.