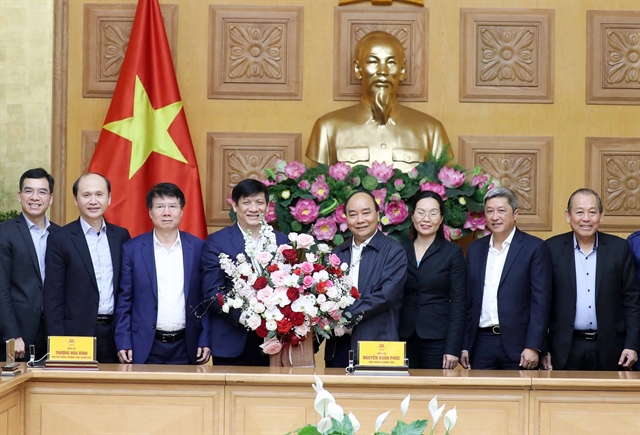 HÀ NỘI — Prime Minister Nguyễn Xuân Phúc on Thursday called for stronger implementation of quarantine measures to prevent COVID-19 from spreading.
The PM was speaking at a meeting of the Government and the National Steering Committee on COVID-19 Prevention and Control.
During the meeting, Phúc conveyed his greetings and congratulations to doctors nationwide on the 65th Việt Nam Doctors' Day (February 27).
He praised health workers for their efforts to stop COVID-19 from spreading.
The PM said society and the political system, including the army and police, had worked hard to counter the threat.
These efforts had been highly appreciated by several countries and international organisations, he said.
As a result, the 16 confirmed cases in Việt Nam had been given all clear, and no new cases had been reported in the country since February 13.
The PM also instructed agencies to ensure all people travelling from epidemic areas be quarantined in comfortable conditions.
The Ministry of Foreign Affairs and other agencies have been put in charge of ensuring mandatory quarantine for people arriving from epidemic areas.
The PM has also cancelled festivals and big conferences across the country.
Referring to the issue of schools, the Ministry of Education and Training has been assigned to co-ordinate with people's committees in provinces and cities to announce a date when it was safe for children to return to their studies, while ensuring hygiene.
The PM said that according to many forecasts, there was a good chance the epidemic would be brought under control in the second quarter, although the global situation remained complicated.
Ministries, sectors and localities still needed to meet their socio-economic targets set by the Party and National Assembly, he said.
He suggested reducing interest rates and taxes, debt rescheduling, while increasing social security spending, especially for those affected by the disease.
Speaking at the meeting, Deputy Minister of Health Đỗ Xuân Tuyến said as of 9am on Thursday, the number of COVID-19 cases was rising outside of China.
The epidemic was spreading globally, Tuyến said.
At present, 92 suspected cases in Việt Nam were under quarantine, and 5,474 people who had been in contact with them were being closely monitored.
The committee asked the Ministry of Foreign Affairs and airlines to announce a mandatory 14-day quarantine period for people returning from South Korea.
For Korean people and those who have passed through Korea before entering Việt Nam from February 11, the Ministry of Public Security has been put in charge of monitoring their movements, and it encouraging people to return home.
The Ministry of Health and Ministry of Information and Communications are working on an e-health declaration app for all passengers to complete before they embark on flights to Việt Nam.
Also, on Thursday, Hà Nội Party Secretary Vương Đình Huệ visited Đức Giang General Hospital.
The hospital is one of five in the city to be designated to receive infected patients.
Huệ asked the hospital to enhance measures to prevent an outbreak.
Nguyễn Văn Thường, the hospital's director, said the hospital had prepared 70 beds and set up a special board with two mobile emergency teams, 12 doctors and 40 nurses.
Over the last two months, the hospital had treated more than 1,000 patients suffering from a fever, of whom 300 showed symptoms of infection, said the director. — VNS
PM pushes for COVID-19 preventive measures have 750 words, post on vietnamnews.vn at February 28, 2020. This is cached page on Europe Breaking News. If you want remove this page, please contact us.