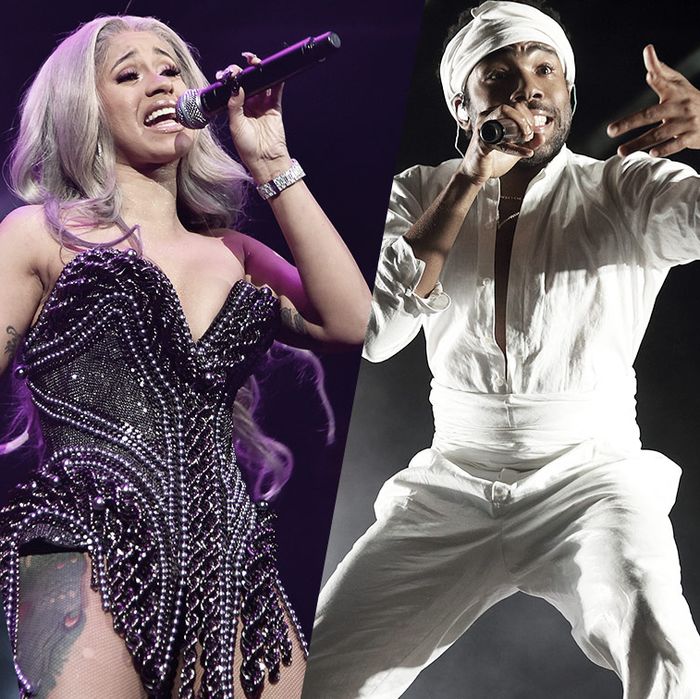 Let's break down the noms.
Photo: Getty Images
The 2018 Grammy nominations are here ! Kendrick Lamar is back, and this time he might take Album of the Year, but he's up against some strong contenders: Jay-Z, Lorde, Bruno Mars, and Childish Gambino all released major, career-defining (or in Jay's case career- re defining) albums as well. In other categories, Cardi B continues her rise with a Best Rap Performance nomination, Lil Uzi Vert could score a Best New Artist win, "Despacito" nets a couple big nominations, and One Direction's Grammys curse endures in the form of an across-the-board snub of Harry Styles's self-titled album from earlier this year. Oh, also, Taylor Swift's weird year continues: She's (almost) nowhere to be found.
Taylor Swift and Ed Sheeran Are Nominated, But Barely Reputation didn't make the Grammys' eligibility cutoff this year — she'll be one to watch in 2019 — she had three of her own songs still in the running, including "Look What You Made Me Do." But the Grammys have spoken: It's a dud. It received zero nominations, not even for Best Music Video. They did, however, nominate her contribution to the Fifty Shades Darker soundtrack, "I Don't Wanna Live Forever," for Best Song Written for Visual Media. (It's up against La La Land , so, uh, don't bet on her winning there.) But as expected, her songwriting has been rewarded: Little Big Town's "Better Man," which she wrote on the sly, is nominated for Best Country Song and will likely win. Is this how the Grammys lure her back to country?
Meanwhile, Ed Sheeran, who was favored for an Album of the Year nom, appears to have lost his spot to Childish Gambino. Divide has been all but snubbed, picking up only a Best Pop Vocal Album nom, plus a Best Pop Solo Performance nom for "Shape of You," another Sheeran juggernaut thought to contend in the top four categories. Four noms between the two biggest pop stars in the world? Oh, how the Grammy tide turns. — Dee Lockett
Cardi B Is Up Against Her Fiancé, Offset —Craig Jenkins
One Direction's Grammy Curse Endures Fifty Shades Darker )" got nominated for Best Song Written for Visual Media … But that's a songwriters' award, meaning the honor would go to Taylor and producer Jack Antonoff, not Zayn. The technicality seems cruel. More glaring is the lack of love for Harry Styles's excellent self-titled solo album, which could've slipped comfortably into a rock or pop category somewhere, at no loss to anyone special. The vocal performances on Harry's record were stellar, and if there was room in the Best Pop Vocal Album–running for an Imagine Dragons project and a low-key, five-song Coldplay B-sides and remixes EP, it's highway robbery for Styles to have been snubbed. What gives!? —CJ
Kesha Is a First-Time Nominee performance . Rainbow is also up for Best Pop Vocal Album. —DL
This Is Jay-Z's First AOTY Nomination 4:44 . He'll enter the night the most nominated, with eight total. Just one year after his wife contended for the top honor, now it's his turn. Beyoncé, by the way, is also up for Best Rap/Sung Performance on his song "Family Feud," because what's the point of the Grammys if she's excluded? —DL
The Year of Donald Glover Continues Atlanta; now the multi-hyphenate threat is coming for the Grammys, too. In a surprise twist, his 2016 funk album Awaken, My Love! , released under his rap moniker, Childish Gambino, snuck in for an Album of the Year nomination. And "Redbone," its hit that spawned a dozen memes, picked up a Record of the Year nom. But that's not all: He's also up for Best Traditional R&B Performance, Best R&B Song, and Best Urban Contemporary Album. That's five total! Glover previously earned a Best Rap Album nomination, but it seems the Grammys love anything and everything he does. Put the man on EGOT watch! —DL
Chris Cornell, Leonard Cohen, and Glen Campbell All Have Posthumous Noms Let's Dance , and he never won an award for one until 2016's Blackstar earned him four Grammys he'd never live to receive. Bob Marley and Jimi Hendrix weren't honored until they died, and we're still waiting for Diana Ross to get recognized. We lost a lot of legendary musicians this year, and the rock and roots categories are so packed with the dearly departed that it's hard to say who'll get the honor. Do you give Best Rock Performance to Chris Cornell or Leonard Cohen? Do you give Best American Roots Performance to Cohen or Glen Campbell? It's gonna get weird … but when aren't the Grammys weird? —CJ
Rapsody Stunned the Rap Category To Pimp a Butterfly and liked what they heard. She's the surprise story of the rap field, where she's a two-time nominee, including for Best Rap Album and Best Rap Song. That first category is key: She's only the fourth solo woman ever nominated for Best Rap Album (remember, Lauryn Hill got nominated with the Fugees, but never as a solo rapper). If she wins, she'll make history as the first woman to ever do it. Meanwhile, with both her song "Sassy" and Cardi B's "Bodak Yellow" up for Best Rap Song, it's the first time two women-led songs have ever been nominated in that category in the same year. —DL
What the Hell Is Happening in Spoken Word? Bernie Sanders and Mark Ruffalo . This category is a bit of a catchall, with significant real estate devoted to audio books. My money's on Springsteen's 18-hour reading of his autobiography, Born to Run , which is the closest most of us will get to seeing his intimate Broadway show. Springsteen's already earned 50 nominations and 20 wins over the course of his career, so he's a known quantity at the Grammys. In this case that isn't a bad thing. — Sam Hockley-Smith
"Despacito" Won't Be Ignored —DL
For Some Reason, Father John Misty Is Alternative Music Now Pure Comedy album was a bloated, searing, and often very good look at the state of America right now. It's shocking that it's here, until you realize that it's an album like they don't make too much anymore — a grand statement from an artist with an idiosyncratic point of view. —SHS
Lil Uzi Vert's Nomination for Best New Artist Might Actually Mean Something Else —SHS
Dave Chappelle and Kevin Hart Are First-Time Nominees What Now? , as is Dave Chappelle for his two Netflix specials, The Age of Spin and Deep in the Heart of Texas . Per Vulture's resident comedy expert Jesse David Fox, Chappelle's a first-timer essentially by choice — he previously hadn't released his specials as an album, so therefore wasn't eligible. Meanwhile, it seems the Grammys have only just caught on to Hart's overwhelming popularity. Hey, they're only ten years late. —DL
Katy Perry's First Grammy Shutout Witness and its singles from this year's pop and dance song and album categories speaks to the stiffness of the competition in the field and, let's be frank, the shaky quality of the product Perry was selling this time. —CJ
Only Three Musical Theater Albums Were Nominated Dear Evan Hansen , Come From Away , and Hello, Dolly! — were nominated for Best Musical Theater Album in a year that saw some pretty stacked productions. The Recording Academy has failed to nominate five albums in this category only three other times: 2014, 2012, and 1964. The biggest snub here is the beautiful Natasha, Pierre & the Great Comet of 1812 which features Josh Groban and Denée Benton doing their damndest to wring tears from your eye sockets , while other exclusions were Groundhog's Day , which we argue had one of the best tracks of the season , and War Paint , which gave us the most emotional ode to a color . And while maybe Sunday in the Park With George didn't boast the strongest cast, we are very upset that Jake Gyllenhaal's singing isn't getting the recognition it deserves. —Tara Abell
Somehow, Game of Thrones Found a Way In Game of Thrones is up for a Grammy. And it has nothing to do with Ed Sheeran's cameo! Instead, Ramin Djawadi's season-seven score has been nominated for Best Score Soundtrack for Visual Media. It's up against the film scores for Arrival , Dunkirk , Hidden Figures , and La La Land , but none of those enemies have an ice dragon, so. —DL
Where Are All the Women in Rock? —DL
Jack Antonoff Got Snubbed Melodrama , Jack Antonoff got stiffed. He's nowhere to be found under Producer of the Year, Non-Classical. His Taylor Swift song for the Fifty Shades Darker soundtrack got a nom, but "Look What You Made Me Do," plus his Bleachers album, have gone unnoticed. Instead, perennial nominee Greg Kurstin, Calvin Harris, No I.D., Blake Mills, and the Stereotypes have all been recognized for their year's worth of production. —DL
2018 Grammy Nominations: The Snubs and Surprises have 1833 words, post on www.vulture.com at November 28, 2017. This is cached page on Europe Breaking News. If you want remove this page, please contact us.