One killed, eight injured in taxi-train crash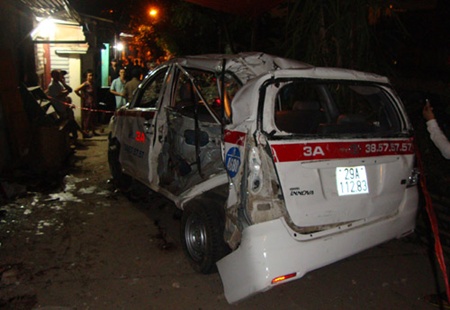 One person died and another eight people were injured yesterday evening when their taxi crossed a railway intersection and collided with a train in Thuong Thanh Ward, Ha Noi's Long Bien District, despite a signal warning of its approach.
The victims are a family from northern Bac Ninh Province who were on their way to visit relatives in Ha Noi. They were taken to Viet Duc Hospital in serious conditions. The taxi driver escaped from the car just before the crash, fleeing the scene and later reporting the crash to police.
The railroad crossing is reported to have proper automatic warning signals in place, but no barrier. The case is under investigation.
Bus ticket prices to increase 40%
Bus ticket prices will increase by as much as 40 per cent from January 1, 2014, according to the Ha Noi Department of Transport.
For those traveling under 25km, price will jump from VND5,000 to VND7,000 (US$0.3). Between 25-30km, prices will rise from VND6,000 to VND7,000, while for journeys over 30km, each ticket will cost VND8,000 ($0.35).
Nguyen Hoang Linh, deputy head of the Department, said the price increase was intended to improve services and ease the pressure on the city to subdise bus operations.
According to Linh, the city is expected to provide 1,134 billion ($54 million) to subsidise bus operations this year.
The department admitted this increase would deter some people from taking the bus, but said it would work to raise awareness of the increase among people using public transportation, especially those travelling within a 5km journey.
Vaccine not to blame for infant death
Central Quang Tri Province on Monday announced that the death of a three-year-old kid, who died on Sunday after receiving a Quinvaxem vaccine, was not caused by the vaccination.
The kid received the injection on November 5. However, 16 hours later he reported a fever and swelling at the injection site, the province's Preventive Health Centre said.
The child was sent to several medical stations before being admitted to Huong Hoa District's General Hospital on November 10, where he later died.
The post-mortem indicated that the child had contracted serious pneumonia, according to the director of the centre.
Techmart Dak Nong 2013 showcases technological advances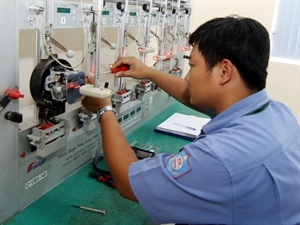 More than 200 research institutes and centres, universities and businesses are showcasing their latest scientific and technological advances at the Techmart Dak Nong 2013, which opened in the Central Highlands province of Dak Nong on November 12.
On display are 1,000 technical products relating to materials, mineral processing, bio-technology, and information technology.
The Science and Technology Departments of 26 provinces also bring their technologies and equipment while taking the opportunities to connect with other localities and scientists.
The focal fields at the event are agro-aquatic-forestry, food processing, mechanical engineering, electricity, electronics, automatics, information technology, materials-chemicals, and pharmaceuticals.
Within the framework of the fair, several workshops and forums will be held for managers, scientists, businesses and farmers to together seek solutions for tapping potentials in the region as well as addressing their difficulties.
The event, jointly organised by the Ministry of Science and Technology and the People's Committees of Dak Nong province and HCM City, will last until November 15.-
ASEAN Telecoms, IT meeting opens in Singapore
The 14th ASEAN Telecommunications and Information Technology (IT) Senior Officials Meeting (TELSOM) opened on November 12 in Singapore to discuss and enhance regional cooperation in the field.
The ASEAN officials will meet with dialogue partners from China, Japan, the Republic of Korea and India as well as representatives from the European Union and the International Telecommunication Union (ITU) on separate occasions on November 13.
At the annual meeting, they will review regional activities and projects in terms of telecommunications and IT while considering relevant suggestions and discussing orientations to report to the 13th ASEAN Telecommunications and Information Technology Ministers Meeting (ASEAN TELMIN).
The two-day ministers meeting themed "Connecting Communities, Co-Creating Possibilities" will begin on November 14. In conjunction with this meeting, the 2013 ASEAN ICT Awards Ceremony will be held to honour the region's most outstanding innovations and IT applications.
Senior ASEAN telecommunications and IT officials will meet with ITU leaders and the aforesaid dialogue partners in separate meetings on November 15.
Bi-regional epidemiology conference opens in Da Nang
HIV/AIDS, tuberculosis and malaria are among Vietnam's great concerns, the Health Ministry has said at the 7 th bi-regional symposium of the Training Programmes in Epidemiology and Public Health Interventions Network (TEPHINET).
At the event, which opened in the central city of Da Nang on November 12, the ministry reported that the country is coping with the fast emergence of transmitted and non-transmitted diseases and climate change impacts on public health.
A nation can attain high and sustainable development only when its citizens' health is well cared for. This fact forces the Governments and social organisations to pay more attention to public health, participants said.
The conference for Asia Pacific and Southeast Asian regions, themed "Advancing Public Health for Country Development", was organised by the Health Ministry's General Department of Preventive Medicine.
It saw the attendance of 350 experts from 20 regional countries and territories, and international organisations.
The three-day event is set to hear 178 reports on public and preventive medicine, epidemic prevention, and see a plenary session together with five workshops.
At the opening session, participants agreed that the world is facing a number of dangerous diseases affecting the socio-economic situation and public health such as HIV/AIDS, SARS, influenza type A strains H5N1, H1N1 and H7N9, and foot-and-mouth disease, apart from non-transmitted diseases.
Founded in 1997, TEPHINET aims to improve the capacity of public medicine in the world through epidemiology training programmes and sharing experiences and technology achievements in preventive medicine.
Vietnam became a member of the network in 2010.
Local clinics in Dak Lak get upgrade
Ninety local clinics in the Central Highlands province of Dak Lak have been upgraded under a project to improve initial health care in remote areas.
Beginning in 2011, the project has a total budget of 13 million USD, half of which came from non-refundable aid of Atlantic Philanthropies Vietnam (AP) and the remaining from the provincial budget.
In addition to building new facilities, the project also buys modern equipment for target clinics with the aim of providing better health care for people in disadvantaged areas, particularly ethnic minorities.
According to the provincial Health Department, a total of 158 clinics in Dak Lak will be upgraded by the end of 2014.-
Vietnam and the race against climate change
Vietnam has experienced unusual weather developments with higher numbers of storms and low pressures this year, which is dubbed as the Pacific typhoon season – an event in which tropical cyclones form in the west of the Pacific Ocean.
The country has so far this year grappled with 14 storms and four low pressures, the highest number in nearly 50 years, with more strong ones than previous years, especially the 10th and 11th hitting the central region last month.
Super typhoon Haiyan, which packed a devastating punch on the Philippines, was 3.5 times more powerful than Hurricane Katrina that hit the US in 2005. Early on November 11, it made landfall in northern Quang Ninh and Hai Phong of Vietnam, causing heavy rain and strong winds in the region.
The typhoon, the 14 th storm to hit Vietnam this year, killed 14 people, left four missing and injured 81 others by 6.30pm on the same day, the National Steering Committee for Search and Rescue reported.
According to Le Thanh Hai, Deputy Director of the National Centre for Hydro-Metrological Forecasting, Vietnam is often hit by a storm of category 12 or higher each year.
However, he said it is unusual for two massive storms to consecutively lash the country's central region in one month.
Recently, the world has recorded new historical typhoons due to the impacts of climate change, said the World Meteorological Organisation.
Vietnam is one of the five countries forecast to be hardest hit by climate change. Being aware of this, the Vietnamese Government soon ratified the United Nations Framework Convention on Climate Change (UNFCCC) and the Kyoto Protocol to the UNFCCC in 1997.
The country has also issued a strategy and a plan of action on climate change at a national scale and a national strategy on green growth which mirrors its commitments to fulfilling tasks stipulated in the UNFCCC.
At the same time, Vietnam has actively implemented projects on greenhouse effect mitigation and those following clean development mechanism (CDM).
By September 9, 2013, Vietnam had more than 240 CDM projects, focusing on agriculture, energy and forestry.
Over the past time, the country has intensified measures on sustainable forest management and implemented the UN Programme on Reducing Emissions from Deforestation and Forest Degradation.
At the 18th UN Climate Change Conference last year, Vietnam and Norway agreed to join hands in the implementation of a project on reducing emissions from deforestation and forest degradation.
Apart from international financial support, Vietnam has poured certain amount into programmes on forest protection and afforestation.-
"Hanoi Run for Children" raises over VND1.5 bil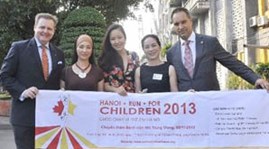 The "Hanoi Run for Children", a fundraiser for disadvantaged children battling cancer and heart diseases, will be held on November 17.
The almost 7,000 people registered to participate have already raised more than VND1.5 billion
The annual event, co-organised by the Canadian Embassy in Hanoi, the Vietnam-Canada Friendship Association, and the Canadian Business Association (CanCham), also marks the 40th anniversary of diplomatic ties between Vietnam and Canada.
National Hospital of Paediatrics Deputy Director and Charity Representative Dr Tran Minh Dien said the donations not only encourage patients but also inspire pride in the hospital's doctors and staff.
The Cancham Vice President said the association is honoured to participate in an event reflecting the values of charity, social responsibility, and unconditional support
People's Artist Le Khanh and the 2007 Miss World Vietnam Ngo Phuong Lan will join the 2013 run.
The run begins at 9AM on November 17 at the main gate of the Ciputra Urban Complex. Interested parties can register to participate, donate, or volunteer at the website www.runforchildrenhanoi.org.
Hanoi hosts major Asian cities network conference
Representatives from 13 metropolises have registered to attend the November 18–19 Asian Network of Major Cities conference in Hanoi.
According to a November 12 press briefing, the city delegates will focus discussions on crisis management, environmental response , industrial development, and trade and tourism promotion.
Hanoi joined the Asian Network of Major Cities in 2001, immediately involving itself in investment promotion and Asian infectious disease control initiatives.
This is the second time Hanoi will host the conference, aiming to strengthen cooperation between the Vietnamese capital and other Asian cities.
Hanoi External Affairs Department Deputy Head Vu Dang Dinh outlined the conference's planned consideration of issues in urban planning, energy efficiency, and agricultural and industrial development.
The conference also includes seminars on trade, investment, and tourism promotion; signing ceremonies for cooperation agreements; music and dance performances; and an exhibition showcasing the beauty of Asian cities.
Bomb and mine clearance project underway
Lang Son province has launched a charity bomb and mine clearance project on November 12 in accordance with the Programme 504 on destroying unexploded ordnance (UXO).
Under the VND74 billion project, which will run in the northern border provinces of Lang Son and Cao Bang until 2015, relevant agencies will clear UXOs from designated areas totalling 657 hectares.
Military Zone 1 Deputy Commander and Chief-of-Staff Major General Pham Thanh Son, who is also head of the clearance project's management board, said
UXOs pose serious threats to human life and property, endangering health, social safety, local environments, and socio-economic development. Their impact is especially evident in remote and border areas.
The project will help local residents expand their cultivated land area, upgrade infrastructure, undertake resettlement programmes, and exploit valuable natural resources, Son underscored.
He asked relevant agencies to stringently obey expert instructions and safety regulations over the entirety of the project.
Authorities estimate UXOs are still present in over 3,000 hectares of land along the Vietnam-China border.
Southern Protestants convene general assembly
The General Confederation of the Southern Evangelical Churches of Vietnam convened its fourth General Assembly in Ho Chi Minh City on November 12.
The almost 2,000 southern provincial pastors, dignitaries, and lay followers in attendance will use the four-day meeting to review the organization's performance during its 2009–2013 term and elect a new fourth term executive board.
The event also prepares for the upcoming unification between the southern General Confederation of the Evangelical Churches of Vietnam and the northern Evangelical Church of Vietnam.
The southern General Confederation has 700,000 followers in 34 cities and provinces south of Quang Tri. ECVS members regularly cooperate with other religious communities on fundraising drives reducing poverty and promoting engagement in charitable activities.
Addressing the General Assembly, Government Committee for Religious Affairs Deputy Head Bui Thanh Ha expressed faith in the ECVS' willingness to serve the nation and contribute to national construction and defence.
Vietnam is home to more than one million Protestants belonging to over 60 different Protestant organisations, sects, and groups. The northern Evangelical Church of Vietnam, the largest in northern provinces, has 15 chapters and more than 100,000 followers.
Efforts made to help Vietnamese citizens in Philippines
The Vietnamese Embassy in the Philippines has got in touch with about 100 Vietnamese citizens stranded in Tacloban city, Leyte province, the Philippines due to the recent devastating super typhoon Haiyan.
Through a hotline in the country, the embassy has asked them to stay together in the city's downtown area so that rescue staff can reach them more easily.
The Vietnamese Embassy has also proposed the Philippine army – the major storm rescue force – to allow the embassy staff to directly reach the site to support the Vietnamese citizens.
The Philippine army said it will create all favourable conditions for the embassy to carry relief stuff to Tacloban by special airplane C-130.
All necessary relief like medicines, clothes and food have been readied to send to the site, the embassy said.
According to Ambassador Truong Trieu Duong, all communication systems of the Philippines have not yet been recovered, while all airports have been seriously damaged. The relief aid will be carried to an airport near Tacloban before reaching the Vietnamese citizens by other means of transport.
The embassy will continue coordinating with authorised agencies in the Philippines to update the situation of the Vietnamese people there to give prompt and timely support, he added.
A working group was also formed to connect with the Vietnamese community to keep track of the situation.
The embassy has not recorded any deaths in the Vietnamese community in the Philippines caused by super typhoon Haiyan, which the country fears could have cost 10,000 livesin the central Philippine province of Leyte after making landfall on November 8.
Earlier, it sent diplomatic notes to the host country's Ministry of Foreign Affairs, Coast Guards and Naval Force to provide information and help Vietnamese fishing boats shelter from typhoon Haiyan.
Vietnam has sent initial emergency aid worth 100,000 USD to the Philippines to help typhoon victims.
Land clearance clogs transport construction
Land clearance remains one of the toughest obstacles for the construction of many national projects, officials of the transport industry stated on November 12 in an online discussion on progress and quality of transport construction.
Currently, there are 26 major transport projects nationwide with a total investment of nearly 575 billion VND (27 million USD); seven of which have been completed and 19 still in progress. Many projects among these are lagging behind anticipated schedules.
Deputy Minister of Transport Nguyen Hong Truong said the country's land clearance policy depended largely on the different conditions of different areas. He added that resident dissatisfaction with offers on land compensation hindered major project progress.
The director of the Civil Engineering Construction Company No 4 (Cienco 4), Le Ngoc Hoa, said contractors also needed to co-operate with project consultants and supervisory groups.
He cited the highway project from Nhat Tan Brigde to Noi Bai Airport, in which Cienco 4 provided considerable support to local residents for land clearances. "We have to increase the expenditures but we have to clean construction site sooner. In the end, we save more," he said.
Truong Quang Thieu, head of Hanoi's Land Clearing Department, said issues on resettlement must be tackled to uphold the rights of residents.
Officials also admitted during the online discussion that many projects had degraded shortly after being put in to use. Pot-holes and road depressions were located on Cau Gie-Ninh Binh Highway six months after its completion. Some parts of Lang-Hoa Lac Highway are currently flooded.
Pham Tuan Anh, vice head of the Ministry of Transport's Department for Management of Traffic Work Construction and Quality, said road depressions had occurred on many highways and roads, threatening severe accidents. He added that the Ministry of Transport had attempted to address the problem.
Overweight trucks were one reason for the damage, said Deputy Minister Nguyen Hong Tuong, adding that the country needed to import the tar used for building roads and was unable to ensure quality. He confirmed that the examinations showed no violations in terms of corruption.
Minister Dinh La Thang recently asked contractors to repair damage to the National Highway No.1 before December 31 this year. He also demanded that contractors to maintain the roads for up to 5 years and withdraw consultant fees for repairing violations.
HCM City develops family doctor network
The project was introduced by the municipal Health Department and the Pham Ngoc Thach Medical University on November 12.
Recognised as a specialty in Vietnam since 2002, family medicine is still a novel approach in the country, which aims to provide primary healthcare services to individuals, families and community.
In Ho Chi Minh City, this model has been implemented at 10 hospitals in local districts, helping reduce overcrowding in hospitals.
However, there remain many difficulties in terms of material conditions, human resources, and mechanism execution that hinder the development of this model, said Dr. Nguyen Thanh Hiep, head of the Pham Ngoc Thach Medical University's Family Doctor Faculty.
In the first phase of the project, Hiep suggested building and developing the model at a small scale with supporting policies and investment in several local health stations. If this works well, then the model will be expanded, he added.
Doctor Nguyen Ngoc Duy, a representative from the city's Health Department, expressed his belief that the family doctor service will gain public confidence and help ease the overloaded in hospitals, especially in central ones.
To realise the project, the department is building a patients information management system at local hospitals and family doctor centres as well as investing in medical equipment to facilitate family doctor services.
Smuggled cigarettes expected to pipe up as Tet nears
Vietnamese authorities are moving to crack down on cigarette smuggling, expecting a surge in the illegal activity ahead of the Lunar New Year (Tet) festival.
Truong Quang Hoai Nam , director of the Ministry of Industry and Trade's Market Watch Department, said smuggling methods had become increasingly sophisticated with smugglers setting up vast trans-national networks. Statistics showed that up to 20 percent of cigarettes are illegally smuggled, with Vietnam being a significant market for the goods, he said.
Figures from the Vietnam Tobacco Association also revealed that there were more than 100 cigarette brands smuggled into Vietnam, 90 percent of which comprised Jet and Hero brand goods. Smuggled cigarettes were mostly imported from China, Laos, Malaysia and the Philippines.
The activities have caused a 20-25 percent dent to State budget revenues each year, of which the tobacco industry is obliged to pay to the Government. Smuggling activities were also responsible for lost earnings of around 17,000 tonnes of tobacco and around 550,000 jobs.
Pham Kien Nghiep, the association's general secretary, said domestic cigarette producers and trading companies had been seriously affected by smuggling activities in terms of market share, turnover and profit.
Illegal cigarette smugglers are said to earn profits 30 times higher than when products are imported legally, Nghiep said. He added that localities could do more to prevent smuggling, while people in border areas had been unaware of their activities in transporting smuggled cigarettes.
"It was the reason that only 1 percent of smuggled cigarette seized and destroyed though market watch forces, police, customs offices have been active in preventing the activities," he explained.
He suggested the Government increase incentives for authorities to 15 cents for each confiscated cigarette, urging that Vietnam needed to cooperate with Cambodia and Laos to prevent cigarette smuggling across common borders.
Nguyen Viet The, head of the Market Watch Department in central Quang Tri province, said smugglers often hired poor and unemployed people to carry cigarettes into the domestic market. He said smugglers divided their goods into smaller amounts to avoid being caught by authorities.
In the past five years, the province seized only 300,000 packs of smuggled cigarettes with a total value of 4 billion VND (190,470 USD). The said local authorities should closely co-operate with market management boards and other authorities to tackle the issue.
ASEAN ready to aid Philippines, Vietnam in wake of Haiyan
The ASEAN Coordinating Centre for Humanitarian Assistance on disaster management (AHA Centre) together with the group's members and dialogue partners met in Jakarta, Indonesia, on November 12 to plan their response to the devastation caused by super typhoon Haiyan in the Philippines and areas of Vietnam.
This week, ASEAN will distribute relief items including generators, mobile storage and ASEAN Family Kits to Tacloban, the Philippines' hardest hit region, ASEAN Secretary General Le Luong Minh said.
The association is also readying a stockpile to meet the urgent needs of typhoon victims, particularly food and clean water. However, a key impediment is logistics as the airport in Tacloban was destructed, he added.
Executive Director of the AHA Centre Said Faisal stressed that this is the time for ASEAN to work together in the spirit of solidarity to mobilise all resources in support for the Philippine government and people.
Meanwhile, the Secretary General has written to Vietnamese Foreign Minister Pham Binh Minh to convey his sympathy to the Vietnamese people. He affirmed that ASEAN stands ready to assist Vietnam if requested and will continue to work closely with the AHA Centre to help the country respond to disasters.
Apart from ASEAN's support, the United Nations has announced a relief programme worth 300 million USD added to the 25 million USD in urgent aid earlier given to the Philippines. Japan and the United Arab Emirates pledged to provide 10 million USD each for the country while Australia will give over 9 million USD in relief. Many other countries, including Vietnam, have also offered aid to the Philippines.
RoK helps Can Tho build rural water facilities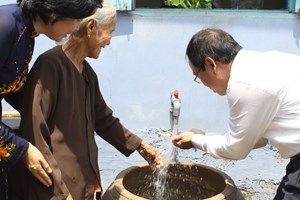 The Republic of Korea's Ministry of Environment pledged a non-refundable aid package of 10.5 billion VND (500,000 USD) for the Mekong Delta city of Can Tho to build water supply facilities in its rural communes.
The money is going to a 34.5 billion VND (1.6 million USD) project to construct a centralised water supply system in the city's Thanh An, Thanh Thang and Thanh Loi communes in Vinh Thanh district. It will consist of a water treatment station with a capacity of 100 cubic metres per hour and a 160km pipeline network.
Its construction is set to start next year and finish in 2015. About 80 percent of the population in the three communes is expected to gain access to safe water when the system goes into operation, said Director of the Can Tho Centre for Rural Clean Water and Environmental Sanitation Tu Van Loi.
At a working session with the municipal People's Committee on November 12, Park Yong Kyu from the RoK ministry said they will send experts to the communes to conduct studies and select suitable water treatment technology.
He affirmed that if the project in Can Tho runs successfully, the ministry will consider technology assistance to expand the system to other regional localities.
Under its master plan on rural water supply from 2015 to 2020, Can Tho city plans to provide 7,000 cubic metres per day and night for residents in the three communes.
Shortcomings in rural vocational training system
Vocational training for rural laborers has made many achievements but has also displayed many shortcomings.
Around 1.3 million laborers in rural districts have been provided vocational training, said Dao Trong Do, Deputy Director of Regular Vocational Training Department under the Ministry of Labor, Invalids and Social Affairs. Due to this training, 79 percent of rural laborers have found new jobs and have higher income.
However, Do pointed out that many shortcomings still exist in the vocational training system for rural laborers. Several vocational training centers do not have full-time vocational teachers. Less than 70 percent of trained laborers in the northern provinces of Ninh Binh, Yen Bai, Ho Chi Minh City, the Mekong delta provinces of Ca Mau and Ben Tre have been employed so far.
The northern province of Cao Bang encouraged 35 people in a commune to learn motorcycle repair work while the commune has only 100 motorbikes.
In addition, computer learners are offered only a three month training course. Trainees cannot use the computer proficiently in such a short time.
Ten outstanding youth receive ASEAN Youth Award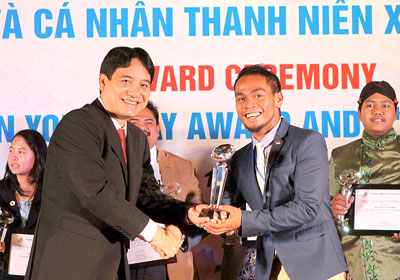 Ten outstanding young individuals in Asia were honored with the ASEAN Youth Award, within the framework of the 19th ASEAN Youth Day which was organized by the National Committee on Youth of Vietnam in Hanoi on November 12.
Nguyen Thanh Phuong, a representative of Youth Newspaper and General Director of Kangaroo and ten of Vietnam's youth leaders were honored with this award.
ASEAN Youth Award is an award aimed to honor excellent individuals who are credited with many achievements and contributions to the ASEAN community.
On this occasion, ASEAN TAYO Awards were also given, which aim to honor youth organizations in ASEAN, which have contributed to meaningful programs, activities in the field of environmental protection, vocational education, employment and health.
ASEAN Youth Day is an opportunity for outstanding young people and youth organizations to share information, experiences and initiatives to improve understanding and cooperation between youth and the youth organizations in the Asian Region.
Over 26 bln VND to disadvantaged kids in Lam Dong
The Central Highlands province of Lam Dong will spend 26.4 billion VND (over 1.2 million USD) in caring for children, who are orphans, disabled and affected by HIV/AIDS, toxic chemicals and natural disasters in the locality in the 2014-20 period.
Under a project recently approved by the provincial People's Committee, Lam Dong will take regulations relating to the encouragement of the community to get involved in caring for and assisting the children, while providing them with vocational training, jobs, and healthcare and education services.
The province will also focus on upgrading infrastructure and providing equipment for local social sponsor centres to improve living condition of the children, while building database and information systems on children, who need assistance in the locality.
In 2014, Lam Dong will implement pilot models on community-based care for disadvantaged children and those with autism or mental deficiency, while building facilities at the social sponsor centres to look after children affected by natural disasters.
Child rights projects benefit over 50,000 kids
Over 50,000 children nationwide have benefited from child protection and care projects conducted by the Vietnam Association for the Protection of Children's Rights (VAPCR) over the last five years.
The information was revealed by VAPCR Vice President Do Duc Ngo at a press conference in Hanoi on November 12, which also announced the organisation of the association's second congress.
During the period, the association implemented many practical and significant activities to assist disadvantaged children in the country, as well as intervened in and handled violations of children's rights.
VAPCR has joined hands with the State and community to improve living conditions for a great number of children in many localities across the country, thus contributing to affirming its role and position in protecting, educating and caring for children.
The association will hold its second congress from November 16-17 in Hanoi to review the implementation of the first congress' resolution and map out plans for the 2013-2018 term.
At the congress, participants will focus their discussion on solutions and resources to ensure the association's activities in the time to come.
On the occasion, the congress will also commend individuals and organisations that made remarkable contributions to the association's development in the last term.
Since its first congress in 2008, the association has established over 600 chapters in 25 provinces and cities nationwide with almost 19,000 members.-
Source: VOV/VNA/VNS/VOV/SGT/SGGP/Dantri
Vaccine not to blame for infant death in Quang Tri have 4957 words, post on at November 14, 2013. This is cached page on Europe Breaking News. If you want remove this page, please contact us.