They're laughing and joking around – but still remain extremely focused and concentrated. On their rehearsal stage in Hamburg, the dancers with the German National Youth Ballet are perfecting the last details for a new choreography that they have come up with themselves.
The new ballet group is about more than just the dancing: The young artists are to develop their creativity. "They don't just tell us 'do this and do that'," says Winnie Dias from Brazil. She herself has learned to develop her own style, she says. The 21-year old dances since she was five years old; after ballet schools first in her home country and then in Germany, she already got her first jobs at various theaters. What she likes about the National Youth Ballet is the high level on which the group of dancers works together.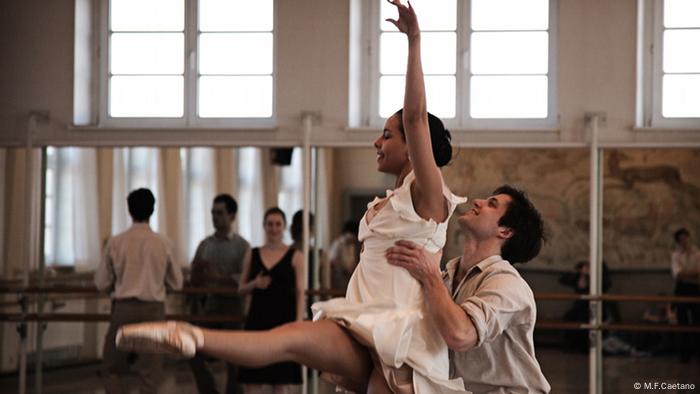 Winnie Dias (left) and Maurus Gauthier are both already fully trained – but still want to learn more
The ballet group was founded by legendary ballet dancer John Neumeier. Since September last year, it is part of his renowned ballet school in Hamburg. The government in Berlin is helping the innovative project with some 2.8 million euros. "We want to further establish dance as an art form," says Neumeier. The 70-year old says the project is has been a long dream of his.
A dream come true
For Maurus Gauthier, the young dance group is also a dream a come true. The Swiss had just decided to repeat the graduation year of the Neumeier's ballet school as he felt he wasn't ready yet to embark on a professional career. Then he came across the audition for the place in the Youth Ballet. "It is really difficult for a dancer to find a job," says Gauthier. By joining the new project he hopes to have better chances afterwards.
Some of the other's in the ballet have especially come to Germany for that opportunity. For instance Natalie Ogonek from Canada. She says she likes the way the art and culture scene is set up in Germany. "Here it is something very normal, and artists are not seen as people out of this world," she says. Fellow dancer Gabriele Finardi from Brazil points that there are lots of dance ensembles in Germany.
The international mix of the ballet is one of the unique ingredients of the innovative project
New perspectives
All of the eight members of the National Youth Ballet are already fully trained professionals. "This new project is something like a master's degree," says organizer Lukas Onken.
That's why to they put particular stress on a broad work spectrum, encompassing everthing that's part of dance as an art form: From making costumes and applying make-up to setting up the stage. The idea is that the two year program links training and professional career while at the same time opening up new perspectives.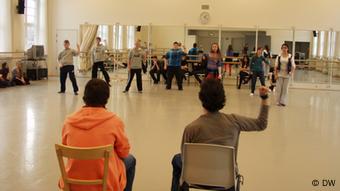 The ballet also works with school kids who otherwise would have little contact with ballet
"I can imagine to work as a choreographer one day," says Patrick Eberts. He too has been dancing since his childhood days. He started in his mother's ballet school in Bamberg and eventually made it to the school in Hamburg. As he sits at the side of the ballet room, the other dancers are rehearsing to a Schubert piece. Patrick has his shoulder injured and can't join them, so he's only watching.
But he's not the only one. On the floor at the side of the room, there is a group of students from a Hamburg school who came to watch the ballet rehearsal. The National Youth Ballet is also intended to be a bridge, bringing the art form to people who otherwise would have little contact with ballet.
'There's a dancer in everyone'
In workshops, the young professionals are working together with interested amateurs. "It's an inspiration to meet such a diverse group of people," says Yukino Takaura from Japan. And when the members of the youth ballet are taking their lunch break, the young school students actually get to take the stage. The 13-year olds have rehearsed a short choreography that they now get a chance to perform.
One group aims to show "anger" in their choreography – some are shy, but others stamp their feet on the floor with all their heart. Ballet teacher Yohan Stegli isn't quite convinced yet and gives the young kids some tips and advice on how to work on their performance.
"Anyone can move," Stegli tells them. "We all carry the ability to dance within us."
Author: Janine Albrecht / ai
Young and international: Germany's National Youth Ballet have 981 words, post on www.dw.com at January 10, 2012. This is cached page on Europe Breaking News. If you want remove this page, please contact us.